RASA CATERING aims to provide affordable catering for everyone to host a celebration and event. Meals are well-prepared using fresh and quality ingredients with a prompt, friendly and  courteous service. Dedicated chefs will serve up the best of Singapore's favourite Malay, Indian, Mediterranean cuisines. We seek to understand your requirements and take pride in our set-up to deliver a memorable and successful event. RASA CATERING is a brand introduced to cater for guests who want the same experience as they have enjoyed at The Landmark. One of Singapore's most sumptuous and diverse Halal Buffet restaurant in Singapore. Serving a wide selection of awe-inspiring range of cuisines from various palettes across the region. Over the years The Landmark has been warmly embracing requests for private and intimate ceremonies which includes corporate events, Malay & Indian weddings to grand and extravagant celebrations.
A Muslim owned and 100% halal, our team of chefs over the years have built a proven track record of serving high quality dishes and look forward to delivering the same high standards to your establishments.
Our institutional catering division provides ready to serve meals. We specialize in Malay, North Indian, South Indian, and Middle Eastern cuisine.
Apart from the above specialities, our Chefs are also fully appt in preparing Chinese & Western cuisine Halal manner.
Supported by 3 hot kitchens and experienced operations team that manage our logistical requirements, we ensure a timely and hygienic delivery of our meals.
Our services include:
Full set of buffet meals or selected dishes
Coffee breaks and lunch for seminars
Malay/North Indian / South Indian / Middle Eastern/ Western Chinese sit down meals
Indian and Malay breakfast dishes
Management/Operations of staff cafeteria, pantry and conference rooms services
Our services are suitable for Hotel, Clubs, Schools, Childcare, Corporate organizations and Government agencies.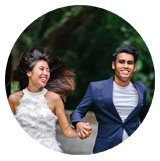 Being one of the best caterers in Singapore, we give our customers value for money, quality food and service.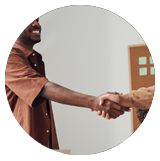 Our experienced logistic team are committing to a high level of service standard.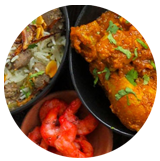 Our food menu improves continuously to bring you a wider variety while retaining the signature taste!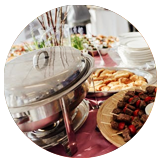 We have a very experienced and creative banquet team customising the themes and preferences of your events.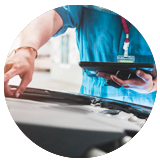 Quality Check and Hygiene Standards
We conduct frequent checks on the quality and hygiene standards to ensure compliance to the best standards.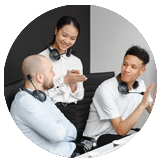 We do events big or small. We are flexible to customise according to our your needs.